| | |
| --- | --- |
| Article number: | G. Loomis IMX Pro-8'6" 4wt-486-4 |
| Availability: | In stock |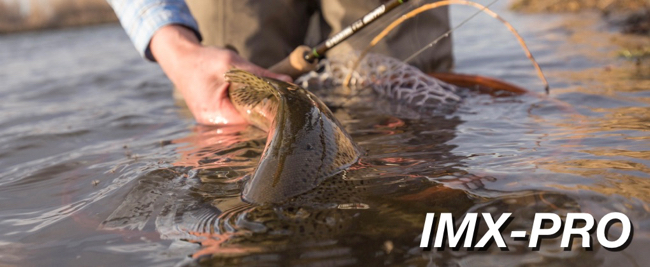 Built to the unrelenting specifications of professional fishing guides, the IMX-PRO series is comprised of 8 purpose driven designs built to excel at modern trout fishing techniques.From a dry fly perspective, these sticks can handle everything from impossibly small flies on long leaders to chub/rub set-ups in the wind. When it's time to get dirty, the 9'6 and 10' models cast, mend and set heavy indicator rigs with ease. Striking the ultimate balance of handsome appointments, positive feel, and unflinching durability, IMX-PRO is a game-changing addition to the serious angler's quiver.


FEATURES + TECHNOLOGY:
Conduit Core Technology
Multi-Taper Design
Fuji stripper guides
Chrome single-foot guides
Micro full wells grip on moels 696-4 and smaller
Standard full wells grip models 790-4 and larger
Custom reel seat (Salt friendly on 5100-4 and larger models)
Cordura rod tube and rod sock
Hand-crafted in Woodland, Washington USA

CONDUIT CORE TECHNOLOGY
IMX-PRO is light in the right spots. Traditionally, as the blank diameter increased, so did the total amount of material. This was the only way to ensure strength and durability in the bottom half of the rod. CONDUIT CORE technology replaces excess wraps of graphite with a proprietary material of similar strength that's lighter in weight, balances better, and boosts energy transfer through the blank. This improves efficiency, and reduces fatigue in fishing situations that require the animation of chunky flies, popping, chugging, stack mending, reach casting, and other repetitive motion.